Volansi announces delivery of cargo drones in the U.S.
Volansi, a cargo drone delivery service provider based in California USA, is developing autonomous vertical unmanned aircraft. The company announced that it has signed a cooperation agreement with the North Carolina Department of Transportation to start a commercial, mid-mile drive in North Carolina. Drone delivery project.
Volansi and the North Carolina Department of Transportation will work with the Federal Aviation Administration (FAA) to collect data on drone delivery projects and how to incorporate them into current transportation infrastructure and regulations in the long term.
"We are very pleased to have this opportunity to work closely with the FAA and NC Department of Transportation to help shape how drones fit into our country's infrastructure," said Hannan Pavizian, the CEO and co-founder of Volansi. Founder. "We believe that one day, automatic flight will be as common and convenient as mailing a letter, and Volansi technology will play a key role in this transportation revolution."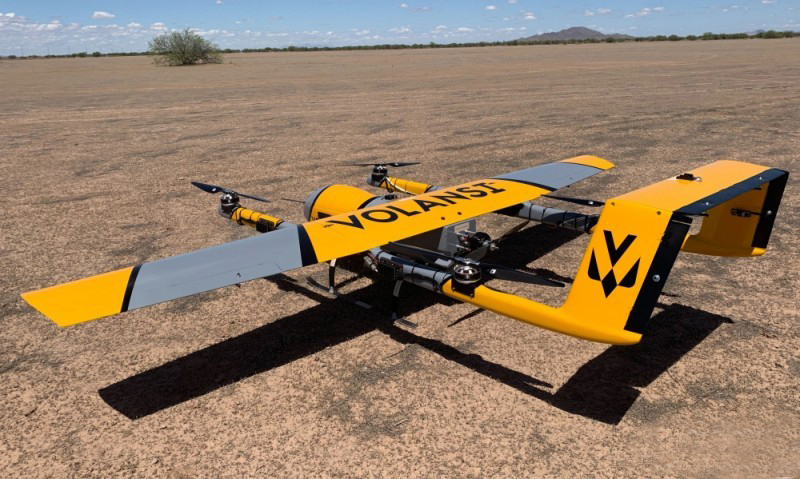 Volansi will initially perform tests and VLOS cargo flights in accordance with Part 107, which is part of the North Carolina UAS Integrated Pilot Program (IPP), which aims to expand to more projects and obtain support from the North Carolina Department of Transportation Additional exemptions and permits and FAA.
The project will initially use VOLY C10-Gen 2, which is Volansi's all-electric, hybrid vertical take-off fixed-wing UAV. This allows Volansi's UAVs to complete complex two-way missions with minimal infrastructure requirements. Since drones fully land at the delivery point, they can deliver and return cargo, such as samples for analysis and diagnosis, or parts for repairs.
This kind of drone can fly automatically, can carry up to 10 pounds of cargo, and fly over 50 miles. Volansi's award-winning internal flight operations team is responsible for all operations of VOLY C10, providing customers with end-to-end delivery services. The VOLY C10 aircraft has already performed missions in Africa, the Caribbean and the United States.
Great shark electric VTOL delivert drone2 Hours Endurance payload2kg
VTOL KIT 320 Fixed wing frame Electric Powered 2 Hours Endurance UAV Aerial Video Surveillance 3D Survey Mapping Drone building
| | |
| --- | --- |
| MTOW | 20.3kg |
| Weight w/o battery and payload | 9.69kg |
| Wingspan | 3200 mm |
| Length | 1,200 mm |
| Height | 500 mm |
| Frame weight | 3.2kg |
| Max payload(battery included) | 10.61kg |
| Battery weight | 7.53kg |
| Endurance(20.3kg take-off weight) | 2.5 hours |
| Cruise speed | 78-90km/h |
| Max speed | 100km/h |
| Stall speed | 57.6km/h |
Recommended Set-up:
4 x T-motor MN605S 210KV
4 x Hobbywing 12S 80A ESC
2 x 2266 CF Propeller CW&CCW
1 x Hobbywing 12S 120A ESC
1 x Dualsky XM6360EA-22 KV190
1 x Wood 19*12 Propeller CW
4 x KST DS135MG Servo
1 x PX4 Air Speedometer
1 x Power Module For Pixhawk 2.1
1 x Pixhawk 2.1 Standard Set with Here 2 GNSS
1 x YR16S Radio Controller
2 x 6S 28000mAh NCR18650GA battery
2 x TATTU 6S 8000mAh 25C Lipo battery
NOTE: THE PRICE IS JUST KIT, WITHOUT ANY ELECTRONIC, AND THE PACKING IS IN WOODEN CASE NOT IN ALUMINUM BOX!