Canadian delivery drone begins commercial entry into U.S.
Toronto, Canada, July 9, 2020-Drone Delivery Canada (FLT.V) (TAKOF) (Frankfurt: A2AMGZ) (Frankfurt: ABB.F) ("Company" or "DDC") is pleased to announce that it has Started to enter the US market as a drone delivery operator.

The company is in discussions with a number of potential U.S. partners who have expressed an active interest in working with DDC to provide the company's proprietary system to support unmanned targeting multiple vertical markets and multiple geographic regions Machine distribution solution.


The company has already begun to apply for the Sparrow drone model design approval process, and DDC's follow-up aircraft will also follow up. According to Article 135 of Part 14 of the Federal Regulations, potential U.S. partners will use the DDC delivery system to carry out rental UAV delivery operations in the United States. Aircraft type certification is an important first step for FAA to approve conventional over-the-horizon delivery operations, which will provide important opportunities for expansion. The company is currently allowed to carry out limited distribution business.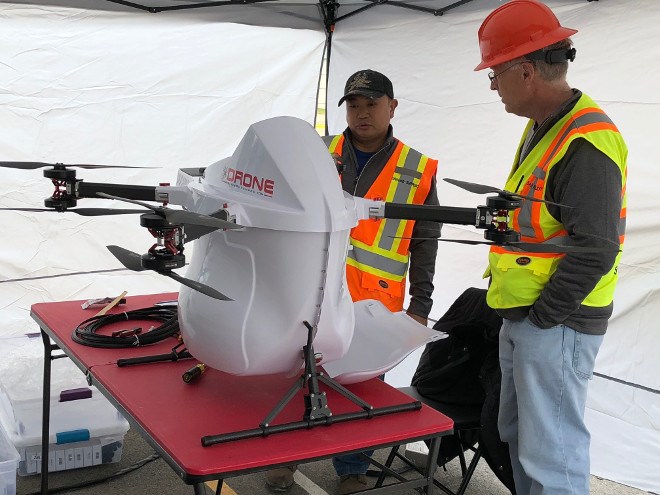 "We have successfully proven and commercialized this business model and gained market appeal in Canada. Expansion into the international market in a controlled manner is a natural process. We have been active in many international target markets The discussion in the United States is obviously an option. We have successfully conducted a BVLOS pilot project in the United States, and now we are ready to begin the process of commercial entry into the United States. Michael Zahra (DDC President and CEO Michael Zahra) ) Said: "We are excited about opportunities in Canada and internationally and we have a strong channel of potential customers.

hybrid generator for delivery drone
Drone hybrid generator FL6000 is a high efficiency generator designed for multicopters. FL6000 generator is only 7.2kg , which is much lighter than any other generators that produce 4500w output power, so FL6000 generator is five times the efficiency of other generators. The continuous power output of generator is 4500w. An internal combustion engine consumes gasoline and spins a generator to ensure a 44.4V output. Besides this, a 12S lipo battery package is also needed to be installed on board to offer emergency back-up power for quick climbing and quick maneuvering. With this generator, the max take-off weight can reach 39kg(according to your power system), and the max flight time is about 2 hours. FL6000 generator is suitable for those multicopters whose power is still lower than 4500w even with 7.2kg generator system(including generator, fuel tank and 3L gasoline). As for the fuel, the auto gasoline is available. When the generator running, its noise level is about 80 dBA. But the noise has no effect if you talk 10 meters away from the drone. We also provide the silencer if you need which could reduce the noise to 60 dBA.
Also maintenance is necessary for FL6000 to keep its high performance. The maintenance cycle is 50 hours. And we will also provide the accessories for generator maintenance.

specification

Size: 270*310*252mm (LxWxH)
Rated voltage :MIX 44.4V MAX 50V 12S
Continues power: 4500W
Weight: 7.2 kg
Fuel tank capacity: 3.5L / 2L
Fuel consumption : 6L/H
Suggest rotor: EA118 KV95 & 38 inch propeller for Quadrotor
Max payload: 39KGS for industrial drone. 49KG for agriculture drone
Fuel ratio: 25:1 (95# gasoline, FD grade 2T oil)
Working temperature: -20~45 degrees Celsius
Startup mode: one-button self-starting
Cooling method: forced air cooling

FL6000 advantages:
1: Intelligent cooling system: It can reduce heat consumption according to the high and low temperature of the engine cylinder.
2: LED intelligent display, real-time accurate display of speed, voltage, cylinder temperature and system status.
3: One-piece patented industrial design, dustproof and waterproof, easy to maintain.

Features
The integrated power generation design is started, and the air start function can be realized without relying on external starting equipment.
The one-piece design makes it easy to hang in all types of racks.
No need to charge preparation time, no complicated ignition action, can quickly perform tasks.
In a cold environment of -20 degrees Celsius, it can work stably.
The backup battery can provide power for emergency short-range return or forced landing in an emergency.
For light-load business, additional fuel tanks can be added and the range can be increased to 1.5-3 hours.
Quick and easy engine installation for quick and easy engine replacement and maintenance.